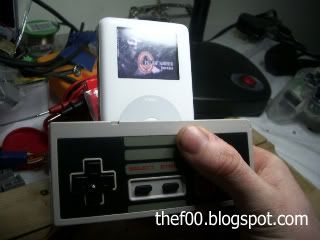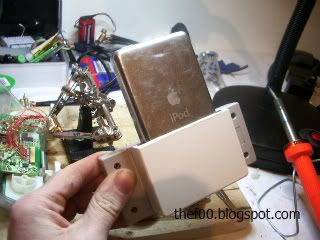 Since I am currently laid up in bed due to a knee injury I thought it might be a good time to start adding updating this blog.
This is a mod I did three or more years ago now. I had played around with installing linux on my 4th gen iPod for a while and was looking to make it a bit more fun. My answer to this was to make it useable with a NES controller. It was actualy quite easy, just required some fine soldering.
The short story is that I tapped the face buttons to a mini usb type socket. I then modded a NES controller for direct button presses. The two where brought together with a dock type set up on the back of the NES con.
Heres a video of the working mod.
I have also finaly found the pics of the build so will update with a tutorial once I have a better web conection (currently on 3G, as I am living in the french alps an there aint alot of wifi in the air).
EDIT: Looks like my boys over at acidmods have found my tutorial heres the link.