This ones not actually that old.
A few years back there was a big buzz around Eee PC modding. I saw a lot of really cool looking stuff done to them so could'nt help myself and bought one of my own to play with.
I went pretty full on with my modifications. In the end I have the following mods.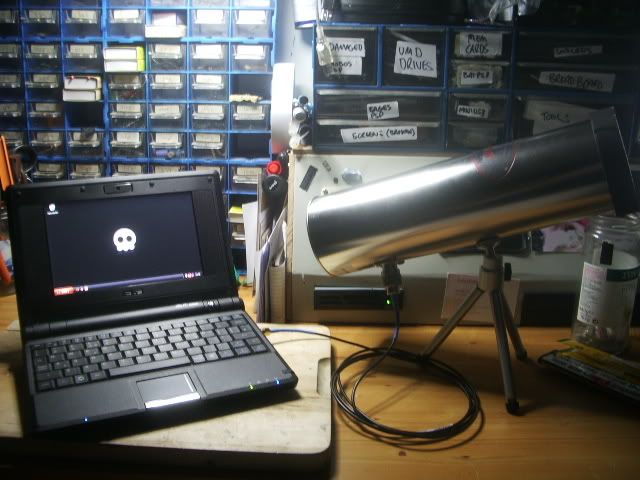 1. Touch screen. Real easy this one. Theres plenty of info on the web about how its done so it was easy to follow. The only hard part was removing the anti-glare layer of the screen. Its a little bt scary.
2. XP nlite install. The original Eee came with a linux distro that would have made my mods a little more tricky for me to install. So I used a slimed down version of xp on it. On the software side I also added some modded lcd drivers and an overclocking app.
3. USB Hub. This was installed inside and connected to the free usb poins on the motherboard.
4. USB Memory stick (8GB). This has a bootable version of backtrack3 installed, to make my Eee dual bootable. The usb stick had a status led so I decided to add this to the Eee too. Its hard to explain this so easer to see on the pics.
5. Bluetooth. This was a bit tricky to get to work with nlite but it worked in the end. I also added a status led for this too.
6. Pig tail. I added this so that I could use a cantena for wifi sniffing. Easy to install.
7. iPod HD. This was a 30g modal that I had laying about. I bought a usb enclosure and stripped it down to fit. Bit of a tight fit but works great.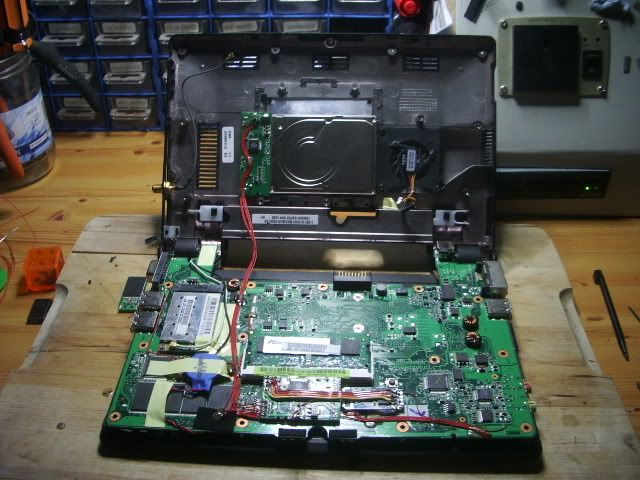 8. Stylus plus slot. This was easy but esentual. I used an NDS Stylus for this.
9. The status LED. You can make out in this pic. These where made with hot glue and hope. Worked out nice.
.
I was real happy with the way it turned out and still use it regularly.